Is Roblox Shutting Down? Here's the Truth
We've been hearing and reading rumors about Roblox closing down in 2021 for years. However, the enormously popular game-creation site never officially addressed them.
The unexpected shutdown of Roblox for more than 48 hours during the Halloween weekend has fueled the evergreen myth of the platform's demise. But, will it truly happen by the end of 2021? Learn more about it right here.
Update: Roblox is now online again after being down for over 48 hours due to unannounced issues.
Roblox is popular game creation and play platform where you can build and play Bloxy games for free. It operates on a freemium model, with luxuries purchased with in-game money or Robux.
Roblox, which was founded in 2006, has grown tremendously in popularity over the years. Roblox has already passed the 43 million active user level.
Their user base has grown at an alarming rate. The reason for this is that Roblox is popular among people of different ages.
Is Roblox shutting down?
Every year, speculations of Roblox's demise circulate on the Internet. When Roblox went down over the Halloween weekend, many gaming groups, social media sites, and forums began receiving stories of Roblox coming down permanently.
However, they were simply rumors with no basis. Roblox was only temporarily unavailable due to technical reasons and is already back online. It is not closing down forever, and I do not expect this to happen very soon.
Take note: Roblox is not going away in 2021, 2022, or anytime soon!
Roblox is not going away anytime soon because it is quite popular among the general public. They recently surpassed 100 million monthly active users, $1 billion in lifetime revenue, and more than $70 million in creative rewards.
Roblox is on a clear route to success, and it will not be stopped. Furthermore, the founders have previously addressed such allegations and stated that Roblox will not be closing down anytime soon.
Where did the Roblox shutting down rumor originate?
Roblox shutting down rumors recently arose when the game stayed offline for more than 48 hours over the Halloween weekend. It encountered a server issue that rendered the platform, its website, and even the support pages inoperable.
Roblox's Twitter handle addressed the issue, stating that they have uncovered an underlying cause and are working hard to get Roblox back up and running as soon as possible.
Fans attributed the downtime to a large partnership with Chipotle, which provided free real burritos to the first 30,000 gamers that visited the in-game Roblox Chipotle store. However, Roblox rejected the news.
Aside from that, the speculations have been going around since 2019. To deceive the audience, React2424, a spoof website, posted a story about Roblox closing down in March 2020. However, some unsuspecting readers fell for the ruse and believed it to be true.
Every year, such instances happen, and people try to conclude that Roblox's time is over. However, that is far from happening as of now.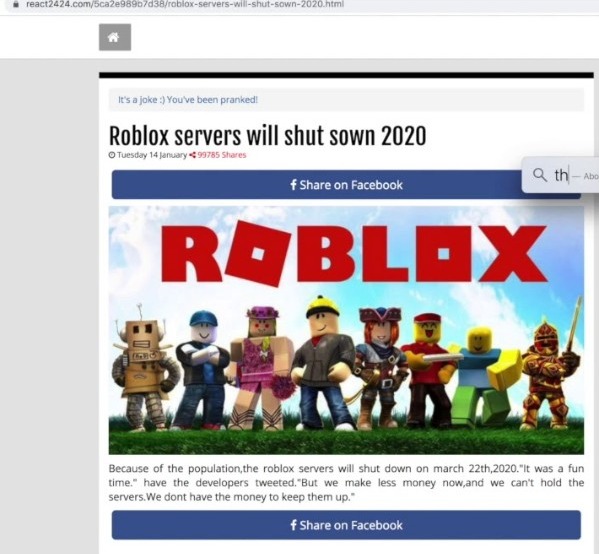 Every year, such instances happen, and people try to conclude that Roblox's time is over. However, that is far from happening as of now.
Will Roblox ever shut down?
The closure of Roblox is not imminent, but it is also not inconceivable. We've seen significant industry players like Blackberry, HTC, and others go bankrupt. As a result, no one is immortal in this world.
Read Also:
However, there is currently no threat to Roblox that will cause it to go down permanently. It is thriving and will continue to thrive in the real world. It's safe to assume it's not going anywhere for the next five years, and hopefully beyond!