Sing 2 Cast & Character Guide: What Each Actor Looks Like
Prepare to be serenaded by an extraordinary ensemble in Sing 2, as this sensational artist brings together a harmonious mix of talented singers and renowned Hollywood performers. Allow me to take you on a delightful journey through the captivating cast and their vibrant characters.
Sing 2's incredible ensemble of talented actors and singers returned to the stage with a bang, determined to earn the recognition they deserved. This vibrant, animated sequel showcases a colourful array of characters, each with their own distinctive voices skillfully brought to life.
With familiar faces and exciting new additions, the cast of Sing 2 is an undeniable force to be reckoned with.
Renowned for their immensely successful Despicable Me and Minions franchises, Illumination stands as one of the most profitable animation studios in recent times.
What to know about the Movie Sing 2
The original Sing film was a resounding success, captivating audiences worldwide and amassing a staggering $634 million in box office revenue. It proved that this studio had the magic touch.
The cast of Sing 2 comprises an impressive lineup of immensely talented individuals, many of whom graced the screens in the previous instalment.
Once again, we follow the endearing koala, Buster Moon. As he embarks on an ambitious journey to stage a spectacular show in the entertainment mecca known as Redshore City.
Alongside a motley crew of eccentric performers, Buster endeavours to create a show that surpasses all expectations.
However, their mission becomes even more challenging as Buster and the spirited porcupine. Ash must therefore convince the reclusive and faded rock star, Clay Calloway, to join their ranks.
Prepare to be enthralled by this exceptional cast and their unforgettable characters in Sing 2.
Matthew McConaughey Played Buster Moon
In Sing 2, the incredibly talented Matthew McConaughey lends his voice to Buster Moon. The ambitious koala was driven by his dreams of stardom.
Buster's unwavering determination and heartfelt compassion serve as his greatest assets. Which propels him to go above and beyond to elevate his cast to the grand stage they yearn for.
With unwavering dedication. Buster will sacrifice to ensure that his troupe finally garners the recognition they've always deserved.
READ ALSO!!!
Scarlett Johansson Played Ash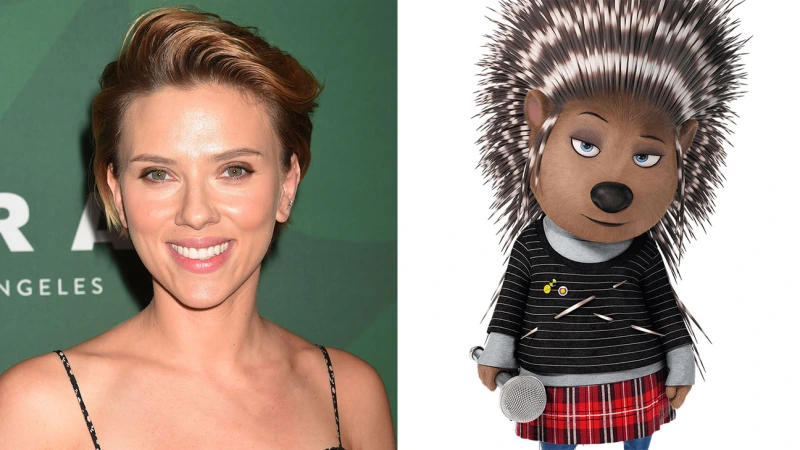 In the animated movie Sing 2, Scarlett Johansson lends her voice to a spiky and spirited porcupine named Ash. This musical porcupine not only rocks the stage with her singing and guitar skills but also looks up to her idol. The legendary Clay Calloway is in the movie.
Initially, Ash starts her journey by performing solo gigs in dimly lit nightclubs, but destiny brings her back to Buster's talented crew when he seeks her help for their upcoming show.
Ash's involvement in the production turns out to be more significant than expected. She takes on a pivotal role as she embarks on a mission to persuade Clay Calloway, who has secluded himself from the world. Also, to join their extravagant performance.
Taron Egerton Played Johnny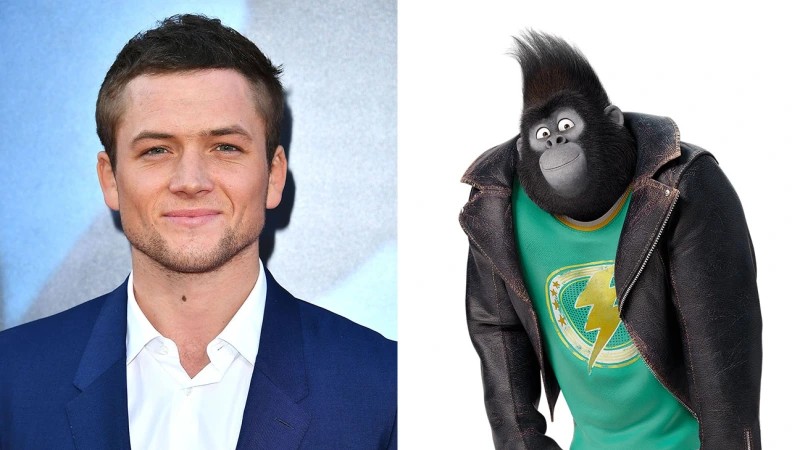 Meet Taron Egerton, the talented Welsh actor who first took centre stage before appearing on the silver screen. You may recognize him as the suave Eggsy from the electrifying Kingsman series. Also, he portrayed Elton John in the 2019 musical movie, Rocketman.
In fact, Taron and Elton John joined forces to captivate us with their rendition of the heartfelt song. "(I'm Gonna) Love Me Again" in the film.
Bono Played Clay Calloway
In Sing 2, they introduce us to Clay Calloway, a lion character brilliantly portrayed by none other than Bono. Clay's past, as a renowned rock star, takes a poignant turn when he withdraws from the limelight after losing his beloved wife.
Bono breathes life into this role, infusing Clay with a depth of emotion that becomes the heart and soul of Sing 2's narrative.
While primarily known as a musical icon and frontman of the legendary band U2. Also, Bono boldly ventures into the realm of acting by joining the cast of Sing 2.
With an impressive collection of 22 Grammy Awards and a well-deserved spot in the Rock and Roll Hall of Fame. Bono's artistic prowess extends beyond music, demonstrating his versatility as an artist.
Reese Witherspoon Played Rosita
In the first film, Rosita was clearly the main character, but in Sing 2, her role was more supportive and complimentary. However, her character's journey is still captivating, even though it unfolds in a shorter time frame.
In this instalment, Rosita lands the lead role in a show but faces a challenge: she must conquer her fear of heights in order to keep the part. Reese Witherspoon lends her voice to this talented singing pig character.
Beyond her involvement in Sing 2. Witherspoon is an esteemed actress who has won an Oscar for her performance in the Johnny Cash biopic Walk the Line In recent years.
Also, she has predominantly worked on television, taking on producer roles and appearing in shows like Big Little Lies and Little Fires Everywhere.
Halsey Played Porsha Crystal
We know Porsha Crystal as the daughter of Jimmy Crystal, the influential media owner behind Crystal Entertainment. One day, she stumbles upon a captivating stage show and instantly develops a desire to be part of it.
Fueled by her father's authority and influence, Porsha insists on securing a role for herself. However, despite her high expectations, Porsha's acting skills fall far short of the mark, leaving her in dire need of improvement.
This unfortunate turn of events leads to a clash between Buster Moon, the mastermind behind the stage show, and Mr Crystal. The conflict arises from the stark contrast between Porsha's underwhelming performance and her father's insistence on her receiving preferential treatment.
Nick Kroll Played Gunter
Nick Kroll takes on the role of Gunter in the highly expected Sing 2. Gunter, the vibrant and energetic dancing pig, plays a pivotal role in shaping the content that graces the stage.
However, his involvement in this instalment takes on a more supportive and complementary nature.
When Jimmy Crystal, the media mogul, dismisses Buster Moon's original concept, Gunter steps in with an exciting idea of his own. Gunter's proposal centres on a sci-fi-themed stage show. This ultimately receives the green light, much to the delight of its creator.
Tori Kelly Played Meena
In Sing 2, Tori Kelly reprises her role as the voice of Meena, the endearing elephant character. This time, Meena finds herself in a challenging situation.
Where she was forced to perform a love song alongside an arrogant yak played by Eric André. Unfortunately, their on-stage partnership lacks the essential spark of chemistry.
However, when Meena's heart flutters for a male elephant that sells ice cream just outside the theatre, a newfound sense of self-assurance fills her.
This blossoming romance ignites her confidence, empowering her to embrace her role wholeheartedly and deliver a remarkable performance in the show.
Tori Kelly initially gained recognition during the ninth season of the popular TV series American Idol. She successfully advanced to the Hollywood stage of the competition. Although she was ultimately eliminated at that point, Kelly persevered and continued to pursue her musical career.
READ ALSO!!!
Letitia Wright Played Noosh
In the enchanting tale of Sing 2, there's a feline called Nooshy, who becomes Johnny's extraordinary dance mentor. Nooshy is no ordinary kitty; she's a spirited street cat with a rebellious streak.
At first, she couldn't care less about Johnny's dance endeavours, but fate intervenes, and he wins her affection. Unlike the other characters in the Sing 2 cast, Nooshy doesn't fret about showcasing her vocal talents.
Instead, she assumes the vital role of being Johnny's supportive companion. Also, empowering him to break free from his self-imposed limitations and embrace his true passion.
While many recognize Letitia Wright for her remarkable portrayal of Shuri in the beloved Black Panther series. However, she now adds another feather to her cap by lending her talents to the marvellous world of Sing 2.
Bobby Cannavale Played Jimmy Crystal
In the upcoming animated film Sing 2, the talented Bobby Cannavale takes on the role of Jimmy Crystal, bringing to life the character of this intriguing media mogul. Crystal is no ordinary wolf; he's a distinguished white wolf who is the owner of Crystal Entertainment.
It is Crystal who presents Buster Moon, the main character, with a golden opportunity to showcase his talents on the grand stage of his prestigious theatre.
However, beneath his seemingly generous facade, Crystal harbours a darker side. He cunningly assumes the role of the villain, posing a genuine threat to Buster Moon's very existence.
On multiple occasions, he menaces the life of our beloved protagonist, creating an atmosphere of suspense and danger. Crystal's powerful presence demands attention and proves to be a formidable adversary for the entire cast of characters.
Pharrell Williams Played Alfonso
Sing 2 boasts an impressive ensemble, and among its talented cast is none other than Pharrell Williams, a prominent figure in the music industry. Meanwhile, Pharrell's musical prowess is well known, his role in this film doesn't require him to showcase his vocal abilities.
It's intriguing to see such a celebrated singer taking on a minor role that doesn't involve any singing whatsoever.
As a 13-time Grammy Award winner, Pharrell has garnered immense recognition for his musical contributions. Fans of Illumination movies will undoubtedly be familiar with his infectious song "Happy."
Which served as one of the standout singles on the Despicable Me 2 soundtrack. However, in Sing 2, Pharrell lends his voice to a character named Alfonso, an endearing elephant.