Stranger Things Season 4 Cast & Characters Guide
Welcome to the exciting world of Stranger Things Season 4! This beloved Netflix series continues to captivate viewers with its thrilling mix of supernatural mysteries, and endearing characters. In this guide, we shall introduce to you the highly talented cast and the fascinating characters they bring to life in the highly anticipated fourth season.
The world of Stranger Things is a constantly growing tapestry, woven with a myriad of fresh faces and familiar figures.
The brilliance of the Duffer brothers lies not only in their captivating storytelling but also in their remarkable talent for introducing new characters without sacrificing the relentless drive of the narrative.
With the show hurtling towards its climactic finale. Also, we've witnessed the tragic departure of certain individuals. We will be listing down a few of the Stranger Things Season 4 Cast.
Meanwhile, the resilient core cast has emerged as the steadfast defenders in the battle against the enigmatic Upside Down.
What to know about Stranger Things Season 4 Cast
Stranger Things Season 4 Cast – The Hawkins' teenage crew has certainly expanded its ranks. As Eleven, Mike, Dustin, Will, and Lucas are now accompanied by the beloved additions of Max, Eddie, and Lucas' spunky little sister, Erica.
These new characters have quickly won over the hearts of fans and have become an integral part of the Stranger Things universe.
As the fourth season unfolded, the show continued to introduce a plethora of fresh faces, ranging from allies to formidable foes, each contributing to the rich tapestry of this captivating narrative.
Looking ahead to the highly anticipated fifth season. Also, we can expect even more intriguing individuals to join the mix, thanks to some thrilling casting announcements.
However, amidst this influx of newcomers, the core Stranger Things cast has enthralled viewers from the very beginning. Therefore, you will undoubtedly remain the shining star in this epic and final adventure.
Millie Bobby Brown is Eleven
In the vast ensemble of the Stranger Things cast, it is undeniable that Eleven stands out as a central figure.
Portrayed by the talented 19-year-old English actress Millie Bobby Brown, she has captured the hearts of viewers since the show's first season.
Brown's portrayal of Eleven was nothing short of extraordinary, earning her a Primetime Emmy Award nomination for Outstanding Supporting Actress in a Drama Series at the remarkable age of 13.
Her incredible talent and dedication have garnered widespread recognition, making her the youngest individual ever to be included in the prestigious TIME 100 list.
Leveraging her immense popularity, Brown has embarked on a remarkable career trajectory, notably taking on significant roles in the recent Godzilla films as a prominent human character and headlining Netflix's Enola Holmes 2.
As Stranger Things delved into its fourth season, Eleven's journey took a compelling turn. She not only regained her extraordinary powers but also unveiled the origins of the first Upside Down portal.
However, her status is the most significant character in the upcoming and final chapter of Stranger Things.
Winona Ryder is Joyce Byers
Ryder's portrayal of Joyce Byers in Stranger Things was nothing short of perfection. She flawlessly embodied the character of a mother.
She played a role of a person whose world gets turned upside-down when her son will mysteriously disappears.
It goes without saying that the upcoming season 4 of Stranger Things would be incomplete without Ryder's presence as Joyce.
Throughout the show's four seasons, Joyce has undergone a remarkable transformation. Also, evolved from a determined and protective mother to a true heroine in her own right.
Also, she played an instrumental role in thwarting the Russian plot and led the courageous mission to bring Hopper back home.
READ ALSO!!!
Finn Wolfhard is Mike Wheeler
Finn Wolfhard, a talented actor and musician from Canada, skyrocketed to fame as "the kid from Stranger Things."
This breakthrough role opened doors for him to take on various prominent parts in live-action films and voice-acting ventures.
Notable examples include his appearances in It, Ghostbusters: Afterlife, and The Addams Family.
As his career continues to thrive his most recent endeavor involved lending his voice to the character Candlewick in Guillermo Del Toro's adaptation of Pinocchio.
David Harbour is Jim Hopper
David Harbour is known for his impressive acting career including notable films such movies like Revolutionary Road and Quantum of Solace. Is no stranger to taking on prominent roles.
However, his latest venture takes a unique twist as he portrays a combat-ready version of Santa Claus in the film Violent Night.
Therefore, fans of Harbour will be delighted to know that he will be reprising his role as Red Guardian from Black Widow.
Also, he will appear in the highly anticipated Thunderbolts project within the Marvel Cinematic Universe.
Additionally, audiences can look forward to seeing him in the upcoming video game adaptation of Gran Turismo.
Hopper, the character portrayed by Harbour in the hit series Stranger Things, initially emerged as a reluctant hero.
However, he quickly endeared himself to viewers and developed deep connections with various characters.
He took on the role of a caring father figure to Eleven and sparked a romantic interest in Joyce. Despite the heart-wrenching belief that Hopper perished in the third season of Stranger Things.
However, he miraculously resurfaced in season 4 after being rescued from a Russian prison, just in time to reunite with the residents of Hawkins for the final chapter of the series.
Gaten Matarazzo is Dustin Henderson
Stranger Things Season 4 Cast – Gaten Matarazzo's journey in the entertainment industry kicked off with a Broadway debut in the renowned production of Priscilla, Queen of the Desert.
Since then, he has been actively involved in various projects, with his latest endeavour being the voice role of Boris in My Father's Dragon.
Prior to his breakthrough, Matarazzo had the opportunity to showcase his talent through several minor roles.
However, it was his portrayal of Dustin Henderson, one of the young members of the Hawkins crew in Stranger Things that truly thrust him into the spotlight.
Dustin, a character brimming with exceptional intellect, often surprises his friends with his unconventional conclusions, which ultimately prove to be true.
His ability to decipher cryptic clues and make connections that others may deem strange.
Therefore, that led him to uncover the truth about the Hawkins teenagers' attempts to communicate with them through the enigmatic language of lights.
Dustin's astute observations and sharp mind make him an invaluable asset to the group, despite his tendency to be a bit eccentric.
Sadie Sink is Max Mayfield
In the captivating world of Stranger Things season 2, a new addition graced the screen as she stepped into the role of Max Mayfield.
Max, accompanied by her ill-fated family, found herself in the unfortunate circumstances of arriving in the mysterious town of Hawkins.
However, amidst the chaos, she quickly formed a bond with the group of kids from Hawkins and even found love with Lucas.
Yet, amidst these connections, her older step-brother Billy succumbed to the malevolent influence of the Mind-Flayer.
As the story progressed into season 4, Max found herself consumed by grief over Billy's untimely demise.
Also, her heart mourned the loss of her step-brother while simultaneously finding herself ensnared in the unintended consequences of Vecna's curse. The weight of these circumstances cast a sombre shadow over her journey.
Natalia Dyer is Nancy Wheeler
Stranger Things Season 4 Cast – In the thrilling world of Hawkins, Nancy, the resilient older sister of Mike, becomes entangled in the peculiar happenings that grip the town after her dear friend Barb vanishes.
With unwavering courage and a proactive spirit, Nancy fearlessly thrusts herself into perilous situations whenever the need arises.
As she matured, her innate reporter instincts flourished, driving her to take charge of investigating the enigmatic phenomena unfolding in Hawkins.
Moreover, Nancy found herself caught in the complexities of love. Also, involves her ex-boyfriend Steve Harrington and her current flame, Jonathan Byers.
READ ALSO!!!
Caleb McLaughlin is Lucas Sinclair
In the realm of Hawkins' youthful inhabitants, Lucas from the well-known show McLaughlin has emerged as a character teeming with inner turmoil.
While Dustin and Mike find solace in their group, Lucas openly yearns to belong. The arrival of Season 4 finally grants him his heart's desire.
Also, a spot on the esteemed high school basketball team. However, when faced with a challenging decision, Lucas opts to prioritize his friendships over seeking revenge against his resentful teammates.
Lucas shares an intricate and unpredictable bond with Max, a connection that fluctuates between turbulence and understanding.
Yet, as the story unfolds, these two ultimately find common ground and reconcile their differences.
Unfortunately, just as their relationship takes a positive turn, tragedy strikes. However, Max tragically falls into a comatose state, owing to the actions of the malevolent Vecna.
Charlie Heaton is Jonathan Byers
Jonathan has frequently played the supporting role to the prominent figures in Stranger Things. In the initial season, he embarked on a mission to locate his missing brother.
Meanwhile, the subsequent seasons witnessed him shadowing Nancy during her investigative endeavors.
However, Season 4 takes a different turn as Jonathan assumes the role of a leader, spearheading a cross-country adventure to rescue Eleven.
Nevertheless, it's worth noting that he doesn't possess the same heroic aura as Nancy and Steve. However, they are known for their daring feats and valiant actions.
Priah Ferguson is Erica Sinclair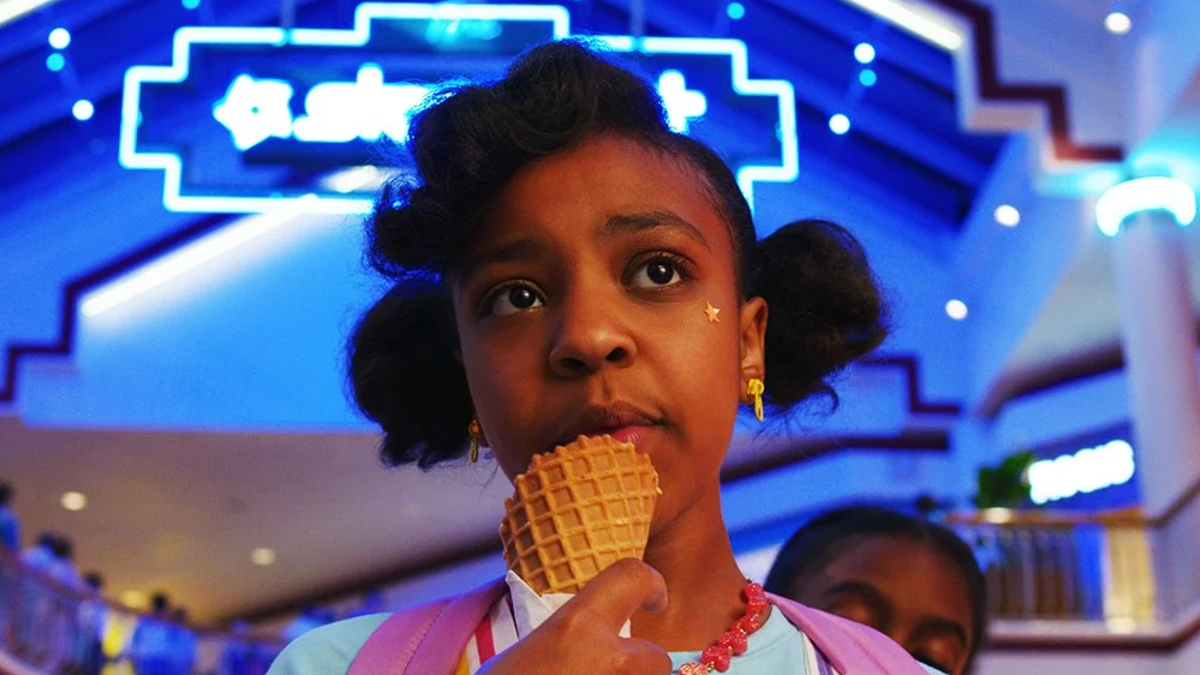 In the thrilling conclusion of Stranger Things season 3, we witnessed a remarkable transformation in Erica as she wholeheartedly embraced her nerdy side.
When she received Will's cherished Dungeons & Dragons set. It was a pivotal moment that led to her induction into the Hellfire club in season 4, taking Lucas's place. And mark my words Erica is poised to outshine the boys in her mastery of the game.
Erica, undoubtedly one of the standout characters, may not have had as much screen time as the other members of the Stranger Things season 4 ensembles.
However, she played a crucial role in facilitating communication between the Hawkins teens, right from the Wheeler house.
With her wit and resourcefulness, Erica is bound to become an indispensable fixture in the upcoming season 5, leaving an indelible mark on the series.
Joe Keery is Steve Harrington
Joe Keery's journey to stardom began with a series of smaller acting gigs until destiny intervened and he snagged the role of Steve Harrington in the wildly popular series Stranger Things.
Overnight, he transformed into a teen heartthrob, captivating audiences with his performance. Since then, Keery's career has skyrocketed.
Also, granting him opportunities to showcase his talent in various films and TV shows such as Free Guy, and Molly's Game. However, he is also the future in Death to 2021, and the highly anticipated fifth season of Fargo.
Maya Hawke is Robin Buckley
When it comes to the Stranger Things Season 4 Cast, one character, in particular, stole the hearts of viewers right from the start.
Robin Buckley, portrayed by a talented actress, instantly became a fan favorite. As Steve's coworker at Hawkins Mall, Robin unexpectedly found herself embarking on a thrilling adventure alongside him. After breaking into a secretive Russian laboratory.
What makes Robin and Steve's dynamic so special is their close friendship, devoid of any romantic sparks.
Also, it's an extraordinary bond that blossomed because of the clear understanding that Robin is a lesbian, a fact she courageously revealed to Steve while under the influence of drugs during season 3.
This revelation laid the foundation for a unique and authentic connection between the two characters.
READ ALSO!!!
Robert Englund as Victor Creel
Renowned for his memorable portrayal of the eerie antagonist Freddy Krueger in the chilling Nightmare on Elm Street franchise. Also, the veteran horror actor Robert Englund steps into a fresh role in Stranger Things season 4.
This time, he takes on the character of Victor Creel, an inmate confined within the walls of Pennhurst Mental Hospital.
Victor's unfortunate fate came to pass when he found himself unjustly imprisoned due to being wrongly accused of the 1959 murders of his beloved wife and daughter.
However, unbeknownst to the world, these heinous acts were actually committed by his own son, Henry, who later adopted the sinister identity of Vecna.
Within the intricate narrative of Stranger Things season 4, Victor Creel assumes a significant role. Also, becomes a wellspring of crucial information for the characters Nancy and Robin.
As the story unfolds, the extent of his involvement and the value of his revelations become apparent.
Shannon Purser as Barbara Holland
Shannon Purser, a talented American actress, captured the fascination of online viewers when she portrayed the character Barb in the first season of the popular series Stranger Things.
Despite her limited screen time, Purser's portrayal left an indelible mark on audiences, propelling her into the realm of online obsession.
Since her breakout role, Purser has graced the screen in notable projects such as the Netflix comedy Sierra Burgess Is a Loser. Also, in the hit series Riverdale, where she embodies the character of Ethel Muggs.
In conclusion, Stranger Things Season 4 invites us once again into a nostalgic journey filled with suspense, heartache, and a familiar ensemble that has become a cherished part of our lives.
With each passing season, the cast of Stranger Things has evolved and blossomed. Therefore, their performances breathe life into characters we hold dear.